Regular price
$399.00 USD
Regular price
Sale price
$399.00 USD
Unit price
per
Sale
Sold out
BRING A FRIEND! ADD 1 MORE FOR AN AUTOMATIC 10% OFF YOUR RESERVATION 🙌
Ready to Get Outside?
Join old friends and meet new friends around the campfire for a 2-day, 3-night camping retreat in Saugerties, New York.
Round-trip transportation, food, camping accommodations and outdoors adventures all included. Open to all 21 and older.
The campground is located in Saugerties at the foot of the Catskill Mountains near the border of Ulster and Greene Counties. Family owned and operated, it offers clean, quality facilities and amenities. Bathrooms, Showers, Laundry, WiFi and a games room and a swimming pool, as well as a fully stocked Camp Store for any of your last minute needs. Convenient to hiking, and water activities including fishing and kayaking.
All Transportation to & from campsite will be provided from Brooklyn. Includes all meals and drinks. Cost includes a shared two-person tent, with a comfortable queen-sized air mattress. For anyone not comfortable sharing a tent, the option for a single tent will be available for an additional cost. 
Let's leave the city life behind, disconnect from technology & reconnect with nature. Join and make friends for a 3-day camping retreat.
This trip is rated BEGINNER.
WHAT TO EXPECT
The itinerary is fluid, meaning you get there when you get there, you get started when you get started, you wrap up when you wrap up.
You will have access to a pool, hiking trip on Saturday, camp games and more.

You're getting a roadtrip, mouth-watering food, fun times, good vibes, awesome activities, and a chance to unplug and relax on a private campground in the Catskills!
What. Are. You. Waiting. For. Sign up ASAP - this trip will sell out! 
FAQS & Q&A
What kind of gear will I need to bring?

 You will receive a detailed list of everything you'll need to bring via email 72 hours prior to the your trip. Standard camping gear includes tent, sleeping pad/mattress, sleeping bag, camp chair. No gear? No problem! Reserve Campsite with Shared 2-person Tent at no additional charge! Need a little more privacy? A shared queen-size inflatable mattress is also available upon request. Reserve Campsite with Private Tent with your own queen-size inflatable mattress, too.

Wait, "shared"? Yes. Each campsite will accommodate 2 guests. Unless otherwise requested, you'll be matched with your plus 1 or another guest who identifies as the same gender as you. Change requests will be managed on-site, so no worries.
Is this trip "kid-friendly"? Kids are welcome! However, the focus will be the grown-ups.
Will there be bathrooms? Yes, flushable toilet and hot showers will be available near the campsite.
I'm going alone and worried about walking around the campground in the dark. How safe is the campground?

 This is a public campground at a public park in NYS. There will be park rangers during the day and up to 10pm.

 
Will there be food? Yes! Meals are included and made-to-order, from scratch, on-site by a guest chef. Vegetarian options available.
I want to bring my own food. How would that work? Yes! However, you will be responsible for prepping and cooking your own meals in your own campsite space. Unfortunately, you will not be able to use the kitchen area or campfire to grill :-(
I want to drive in my own car. What's the parking situation? There are only 5 paid parking spots available at the campsite. Please add it to your reservation before they sell out.
Will the camping and activities happen rain or shine?

 Although severe weather may prompt a change to our scheduling, y

es, all camping and activities will occur rain or shine. Except when safety is compromised. 
The price is a little steep for me. Are there any discounts? Yes! If you reserve for you and your friend, you get an automatic 10% discount. You can also pay for this trip in installments.
Ask any questions any time from the chat box on this page.
Share
View full details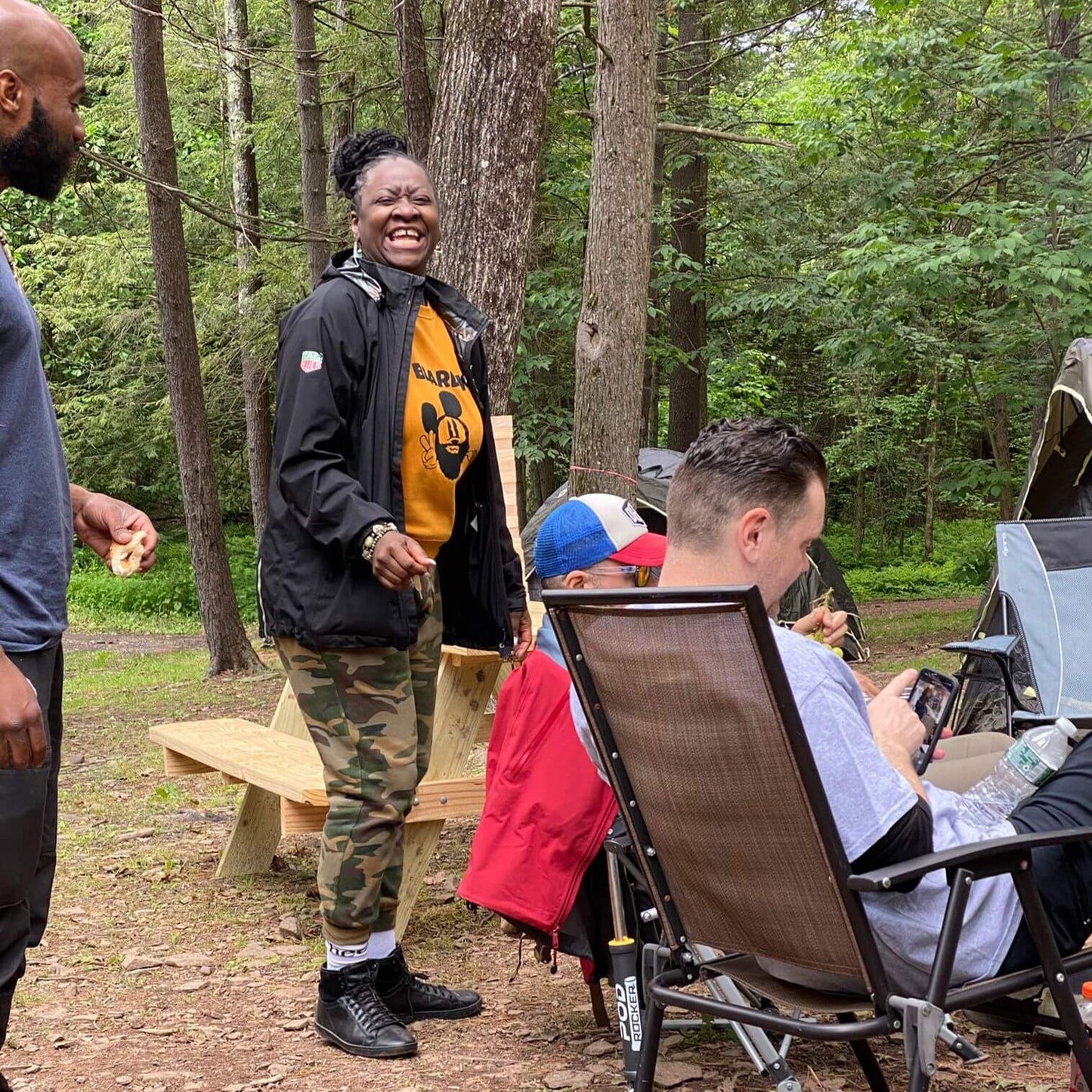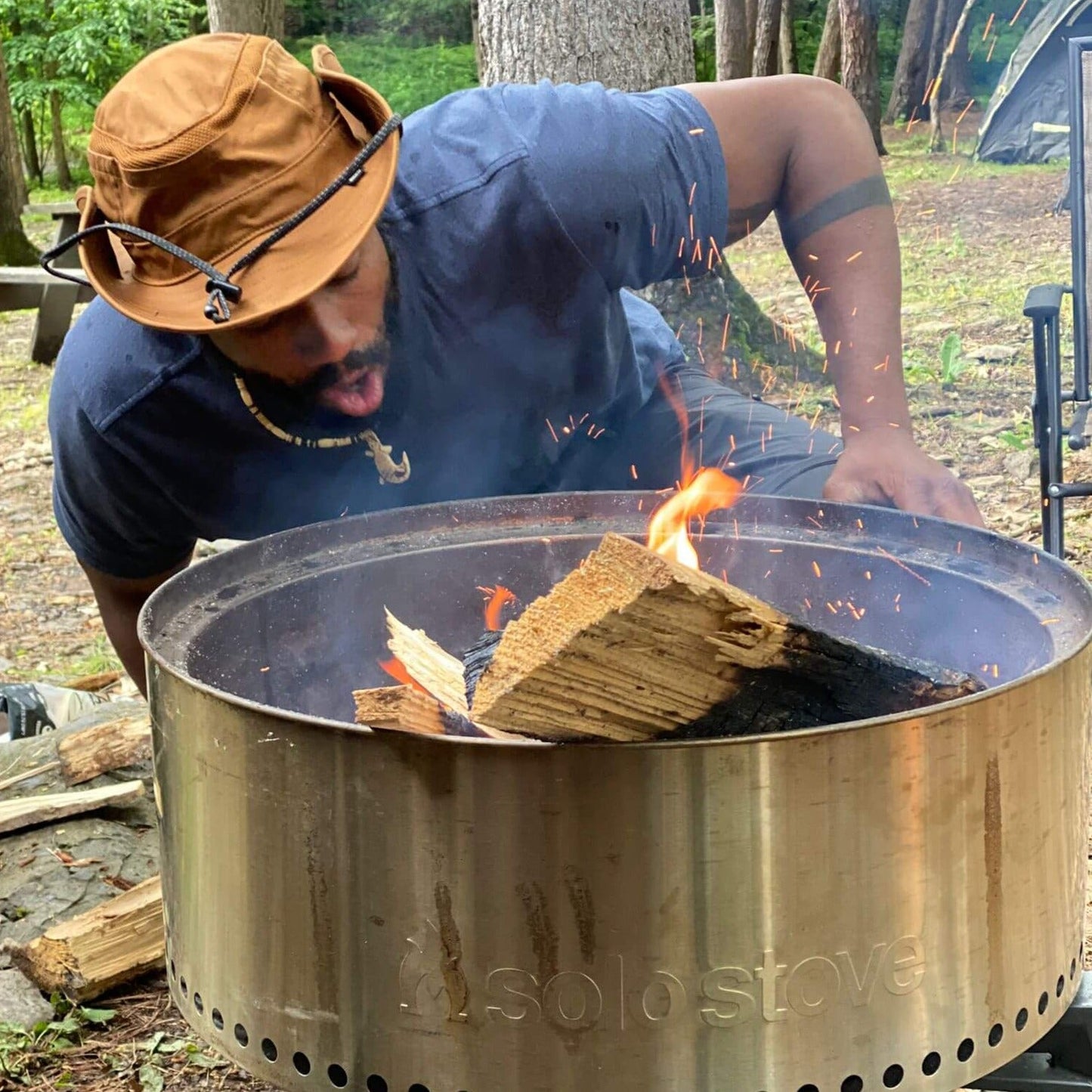 General Trip Information
MORE ECHO THE JOURNEY OUTDOORS TRIPS
HOW TO PAY IN INSTALLMENTS

From any reservation page, select the option 

View Sample Plans

 to the right of the Shop Pay logo.

From there,

 click 

Continue to checkout.

If you don't already have an account,

you'll be asked to sign up for one using your email and phone.

From the Checkout, you'll be asked how you'd like to pay. Select your preferred option, then continue to payment plans.

If you're using your account, you'll then be asked to

 

Verify your Information

. If not, you'll be asked for your billing information.

Finally, you'll be shown all the different plans to choose from (4 payments, 6 months, 12 months, etc). Select

 

the plan that works best for you and

 

complete your reservation.

Please note that Outerthere does not control the type of plans you're offered or terms. Also, not everyone may be eligible for an installment plan and Outerthere has no input over eligibility.
ABOUT TRIP RATINGS

Guidance by Outerthere, Updated August 2023

PACE

Everyone goes at their own pace and regardless of the pace you're on, you will never get left behind or be made to feel as though you're slowing down your group. Whether you're coming out for fitness or to just enjoy nature, the pace of the group can accommodate you.

BEGINNER

Beginner trips and activities are for anyone physically active at least one to three times per week, including kids ages 5+.

Beginner hiking trips, for example, may cover 0 to 3 miles in distance where you will be walking across unpaved, natural terrain anywhere between 2 to 4 hours with plenty of breaks or an experience will include basic training.

Elevation is within 1,000 feet. And some features may require you to use your hands for leverage, balance, and even getting up or down.

Beginner trips are generally labeled "Easy" or "Beginner-friendly" and in the case of water-based trips (i.e. kayaking), will be on calmer lakes and slow moving rivers. For beginner camping trips, we may go from trailhead to campground without backpacking.

Regardless of the pace you're able to keep, you will not be left behind and will be supported with demonstrations or other instruction until you're comfortable performing the basic activity.

Beginner trips are recommended for anyone who little-to-no experience, but wants to get more acquainted with that activity.

FAMILY FRIENDLY

Like Beginner trips, but with more consideration to kids and pets. (For example, other parents/nannies will be present and are happy to support your kid, expect activities your kids will enjoy, baby changing stops and areas are considered, area is walkable with carrier or stroller).

INTERMEDIATE

Intermediate trips are a bit more challenging than Beginner trips, but completely doable for anyone active 3 to 5 times per week, including pre-teenagers.

An Intermediate trip may cover 3 to 7 miles, during which you'll be moving anywhere between 4 to 8 hours with breaks.

If you're participating in an Intermediate trip, you will be expected to have had some basic experience with this activity. You may already own some gear and/or equipment specifically designed for the activity and will be OK with unexpected weather. 

And you may even be asked to support Beginners transitioning up to Intermediate.

Elevation is within 3,000 feet. And some features may require you to use your hands for leverage, balance, and even getting up or down. You'll feel it in your calves, quads, hams, shoulders, back, and arms next day.

Intermediate water-based trips (i.e. kayaking, rafting) generally assume you're comfortable in open water and/or with fast-moving water. Although you don't have to know how to swim, if you're participating in an Intermediate trip, it's recommended.

You will need to focus and stay alert at all times for your safety.

When you're done, you may say to yourself you'll never do a trip like that again, but afterwards, you'll look forward to the next one.

These trips are recommended for anyone interested in stepping up their outdoor game or anyone about to start a training program. 

ADVANCED

Advanced is intended for anyone (including teenagers) who is active almost every day and could probably put together their own trip, but prefers going in a group with other Advanced fam.

They may cover 7 or more miles during which you'll be moving 8+ hours. Destinations, elevation and weather will be challenging.

If you're participating in an Advanced trip, you will be expected to have had some basic experience with this activity. You may already own all gear and/or equipment specifically designed for the activity and are knowledgeable with how to use it. 

Advanced water-based trips (i.e. kayaking, rafting) will require you to comfortable in all types of water. You should know how to swim.

These trips are recommended for anyone thinking about DIY trips and need some additional guidance, anyone training to do epic, multi-day treks, and/or anyone interested in mixing up their normal weekly workout.

IMPORTANT HEAD UP ABOUT ADVANCED PACE: Please be aware that some fam will attend a trip convinced that they are prepared for an Advanced trip, including maybe you. However, they may have discovered on that trip that they are not as Advanced as they expected. That is perfectly normal and in no way reflects a miscommunication or misunderstanding by anyone. Like it says in Welcome emails, sh_t happens and your trip host can manage.

If that's the case, and you or someone else on your trip is having a challenging time, other fam may be asked to support anyone who is having a challenging time maintaining an Advanced pace. This can mean that someone is going at a slower pace due to injury, dehydration, affected mental state, anything. In any case, trips are safe spaces and no one will be made to feel as though they are being a burden or left behind.

SCOUTING

Scouting trips are meant for us to "test the adventure" (like breaking gadgets on purpose to see if they'll hold up to regular use) and figure out all the risks before planning a safe adventure for everyone else.

That said, since we won't always know what to expect, sometimes these scouting trips are very easy and even boring.

Or they are very challenging and extremely dangerous. We won't know until we try it.

Either way, they're fun for anyone who has already participated in Intermediate or Advanced trips, are open to anything and don't mind the unexpected inconveniences (weather, car issues, whatever) that come up on the way to a new experience. 

These trips are recommended for anyone with advanced outdoor skills, lots of experience in the outdoors and a variety of outdoor gear. 
DISCLAIMER

TIME, DATE & DESCRIPTIONS POSTED HERE ARE SUBJECT TO CHANGE FOR ANY REASON. Details regarding your trip will be emailed to you after you book.